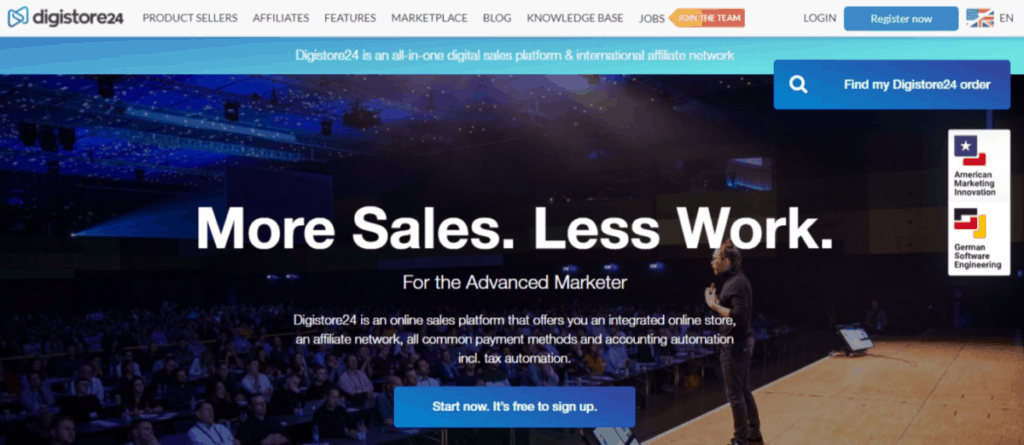 Some affiliate marketing programs just suck and you might be wondering if Digistore24 is safe and worth the effort?
Digistore is 100% safe and is worth the effort to look at if you are an affiliate marketer.
Keep reading and I'll share what the heck Digistore24 is and how it's different than Clickbank. I'll also share what I like about Digistore24 and the 1 thing I don't like.
Lastly, after doing affiliate marketing for 10 Years, I'll share the 1 trick to earning money with less effort.
What is Digistore24?
Digistore24 is an online marketplace for digital products. It's VERY similar to Jvzoo and Clickbank. Signing up for ALL these networks is a good thing because you will have more options on what to market.
It's also FREE to sign up and takes 2-4 minutes and you are automatically accepted!
What I like about Digistore24 is they take "anyone" from "any" country. You could live in Antarctica and Digistore24 will probably accept you. They also pay through Paypal!
Paypal works in 200 countries.
Digistore is very safe and legit for affiliate marketers because you can see how many people visit your landing pages and everything is tracked.

What I don't like about Digistore24 is they don't have a big selection. At the time of this blog post, they have 338 products. In time this may grow, but it's fairly small.
Digistore24 Vs. Clickbank
The largest affiliate marketing marketplace is Clickbank, so you might be wondering how Digistore24 compares to it.
At the time of this post, Digistore24 has 338 products! Clickbank has over 21,000. This is a BIG difference and one of the disadvantages to this marketplace.
Digistore24 has only been in business for a few years and is much younger than Clickbank who has been in business for 20 years.
Next up is cookie duration, which is good to know about! How we make money as affiliate marketers is through a tracking cookie.
When someone clicks on your affiliate link and makes a purchase within (a set time) we get rewarded as marketers. This (set time) is the cookie duration.
The cookie duration of Digistore24 is 180 days (6 months). Clickbanks cookie duration is 60 days (2 months). Digistore24 is a clear winner here. Both use the last cookie to get the sale.
This means if someone clicks on another affiliate marketer's link, but clicks on yours "right" before they buy – you get the sale.
Digistore24 is also in every country, while Clickbank is more limited. Clickbank is mostly in Europe, U.S., and Australia, but it has recently opened its doors to more countries, here is the list of countries that were recently added.
When it comes to how they both pay out – Digistore24 pays through Paypal. Clickbank can pay through Payoneer. Both are very similar – Payoneer is actually in more countries.
Also with Digistore24 they will pay you if you refer people to their marketplace. Clickbank does not pay you to refer people.
I saved the BEST for last.
Clickbank has some fine print you need to read. If you're not careful, you may NEVER receive payment and this sucks!
To get your first paycheck from Clickbank you need to make 5 or more sales with different credit card numbers. You also need to make sales with 2 different payment methods. Plus you have to reach your payment threshold of $100 (the default). The default payment is a check which takes 3-5 business days on average. 
You can learn how to get paid faster with Clickbank by clicking on the link HERE.
Digistore24 is different.
You can get paid weekly, but it depends on how much money you make. You need to earn at least $58 dollars to get paid out on the 7th day of the month (50 euros is around $58 dollars).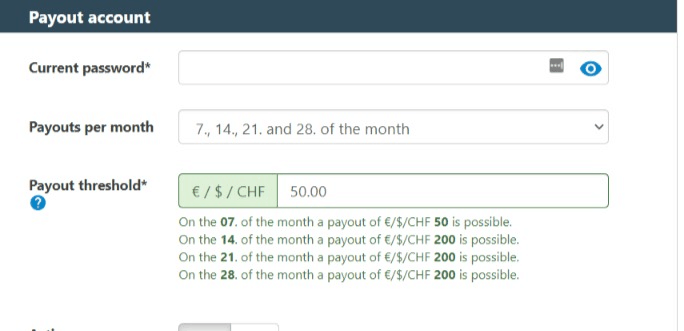 There Is also a security deposit that is needed because some people refund their purchase.
Regular
Here you will be paid 90% of the amount at the next possible payout date (at the earliest 14 days after the purchase) and after a successful transaction. You will receive the remaining 10% after a security deposit of 60 days.
Extended
For your first orders over 300 USD, the security deposit is 30 days instead of 14 days. If orders over 500 USD occur regularly, the security deposit of 14 days will also be used for these orders.
| | | |
| --- | --- | --- |
| | Digistore24 | Clickbank |
| Products | 338 | 21,000 + |
| Cookie Duration | 6 Months | 2 Months |
| Countries | Everywhere | More limited! |
| Payout Methods | Paypal | Payoneer |
| First Paycheck! | Easier | More complicated! |
A chart on the differences!
Where to Promote Digistore24 Products?
The BEST places to promote digistore24 products are with a blog, Youtube channel, and Twitter!
There is a trick to doing affiliate marketing. Instead of "always" hustling you want to create assets where you do the work once and earn money into the future.
How can you do this?
One of the BEST ways to get FREE traffic is with a Blog. What I like about a blog is you OWN it! Yes, it's one of the few things you can OWN online.
Every blog post you can think of as an asset that will earn you money YEARS into the future. Also, it's more passive. The problem with a blog is a post can take 6-12 months before it starts to see maximum traffic (It's SLOW).
If you want to learn how to blog I would recommend checking this out HERE.
The second BEST way to promote anything online is with Youtube. I used to kill it on Youtube, had millions of views – now I'm not that good at it. What I don't like about Youtube is you don't own the channel.
What I do like is to create a blog first, then use the notes to create a video and then direct your audience back to your blog (that you own).
The third BEST way to promote your affiliate offers is with Twitter. I use a system that is completely automated and it works. The cool part with using Twitter is you can listen to a podcast/audiobook or the news and do it. It's one of my favorite ways to get traffic and you learn more by clicking on the link HERE.
Other Thoughts!
When it comes to marketing you need traffic and you need conversions (Both are Important). You can get better at both by checking out this link HERE.
I also created some bonuses myself that I'm proud of. Hopefully, they can benefit you if you check out that link above.
Digistore24 is the underdog when it comes to affiliate marketplaces and is nice because it's available in MANY countries. I'm not perfect at this, but helping the underdog at times is a good thing.
I hope this blog post on is Digistore24 safe for affiliate marketing was helpful. Bye for now.