I just started promoting an affiliate program through Clickbank and was wondering how fast does Clickbank pay? If you want to promote affiliate links from Clickbank there are some things you need to know.
To get your first paycheck from Clickbank you need to make 5 or more sales with different credit card numbers. You also need to make sales with 2 different payment methods. Plus you have to reach your payment threshold of $100 (the default). The default payment is a check which takes 3-5 business days on average. 
Keep reading and I will walk you through how to get paid faster. Also, Clickbank has some hidden fees you have to be careful with.
Many affiliates don't understand these fees and "lose" money.
Plus I'm going to share a unique way to find the right Clickbank products and a cool way to promote them.
How You Get Paid
For you to get your first paycheck from Clickbank you have to pass the customer distribution requirement or (CDR) for short.
The reason Clickbank has this is to prevent people to get discounts on products they are planning on purchasing. The first part of the CDR is you need to make 5 or more sales with different card numbers or accounts.
If 2 sales are from the same credit card and 3 are different then you will not pass the CDR. All 5 have to be unique.
5 different people have to purchase something through your affiliate links for you to get paid. 
If 1 person uses 2 different credit cards and the rest of your sales is from 3 different people then that counts.
You also need to make sales with 2 different payment methods. Here is a list of some examples.
American Express
Discover
Maestro
MasterCard
Paypal
Visa
Diners Club
Carte Bleue
If all 5 payments are from different credit cards, but they are from Visa then you will not pass the CDR.
The sales have to be from 5 different accounts and 2 have to be from different companies. If 4 sales were from Visa and 1 was from Paypal all different accounts then that would pass the CDR.
I hope this makes sense to you.
After you pass the CDR then you have to meet the minimal threshold (by default it's $100). The good news is you can change this, I will show you how later in this post.
Once you meet the threshold then what gets determined is if you are getting paid through check or direct deposit into your bank account.
If you get paid through check then it can take an additional 3 to 5 business days for the money to get to you. Business days mean Monday through Friday.
With a Direct deposit, you will get the money on the same day or it may take an extra day to get to you.
Next, you can get paid weekly or bi-weekly with Clickbank.
If you choose the direct deposit you will get paid every Wednesday. If you get paid bi-weekly then you will get paid every other Wednesday.
With Bi-weekly the payment is in the middle of the month and at the end. Here is a chart that breaks it down.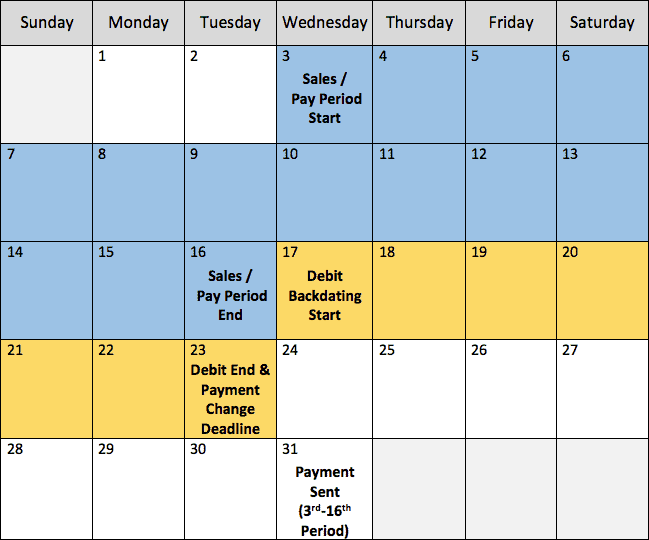 What Are the Fees with Clickbank?
The fees to Clickbank are critical to know.
Every time Clickbank sends you a payment they take $2.50. It does not matter if it's a direct deposit or a check.
You might be thinking of just increasing your payment threshold and get paid once you hit $1,000 instead of at $100.
Dormant accounts are charged $1 per pay period for the first 90 days without a sale. They are charged $5 per pay period after 180 days of no earnings and $50 per pay period after 1 year of no sales.
This is why it's good if you're new to change your payment threshold to as low as possible when you start. When you start to make sales then you can slowly increase it.
To change the payment threshold on your account you first click on the Accounts tab and then on your nickname to the right.
Then click on account settings at the top menu.
Next, scroll down until you see payment information and click on the edit button on the right.
Notice how mine said the threshold was $100 and was a check. You should change it to $10 by direct deposit and weekly.
With direct deposit, you simply insert your bank, routing, and account numbers.
The next fee which is good to know is when you sell a product. The vendor (who created the product) pays a commission between 1% to 75% of the price of the product.
If you sell a product that is $10 and the commission is 75% you will get $7.50 and the vendor will make $2.50.
Oh, but you forgot Clickbank. Clickbank wants their cut right?
Clickbank takes the amount you would get paid $7.50 and applies a fee of $1 plus 7.5%.
Your profit of $7.50 – 7.5% = $0.56 cents. Plus they add $1 so you pay Clickbank $1.56 to process the transaction.
Instead of making $7.50 for the sale, you would get $5.94.
Is Clickbank Even Worth It?
You might be wondering is Clickbank worth it? Clickbank has 200 million customers across 190 countries. It's the 87th largest Internet retailer in North America. As of July 2020, they have 2,156 products.
They are a HUGE player on the field when it comes to affiliate marketing.
Sure, there are other marketplaces and I love Jvzoo, but it's hard to ignore Clickbank.
I choose the MOST valuable products and services to provide my consumers. Second is the percentage of money that I get paid, fees, and the marketplace.
In fact, if the product was VERY GOOD, and paid 0 money with affiliate commissions I probably would still recommend it because my mission is to help others first.
If you are desperate to make sales to pay the rent, it might be better to get a more stable job. Affiliate marketing is a wonderful side hustle.
You can do it from home, anywhere in the world, around your current schedule, have a lot of fun, and make some good money.
However it's healthy to have another source of income when you start, so you are not as fragile.
Yes, Clickbank is worth it in the long run.
How Does Taxes Work with Clickbank?
Clickbank sends a 1099 form to every Clickbank affiliate who earns more than $600 from commissions. If you have not made over $600 in commissions then you will not get a 1099 form. 
You also have to provide a taxpayer ID. This ID is either a social security number or an Employer Identification Number (EIN) that was given to you by the IRS.
I have created an EIN and there isn't a lot of steps to it, but can be hard due to the language on the government site. You just have to go through everything very carefully. For most people, a social security number will work just fine.
You might be hesitant to give your social security number to Clickbank. The fact is they can't pay you if they don't have it.
Another option is to get an EIN and give that to Clickbank.
How Do I Get Paid if I live in another Country?
The process is the same as if you live in the United States. Not every country has access to direct deposits. Here is a link to the list of countries that accept direct deposits.
If your country is not on the list you could go with a paper check or wire transfer. Wire transfer is very fast but there are fees involved and that depends on the bank you are going through.
Unfortunately, Clickbank does not pay through Paypal or any cryptocurrency as of now. They can pay through Payoneer which is an international money transfer service.
Finding Products and Promoting Them
When it comes to finding Clickbank products I think it's a really good idea to use the product first. First look for products that you want to purchase for yourself.
Then use the product for some time. Does the product suck? If so then "Don't" promote it.
Did the product help you? If so then you can share your experience and this can help you make more sales.
When it comes to how to promote the product the key is education.
I know it can be hard swallowing your pride and admitting you need help, but this is can make a HUGE difference.
I used to think I knew everything about affiliate marketing, then I learned from someone who was much better than me.
When it comes to promoting affiliate products there is only 1 place I recommend learning how to do this.
You can view this unique way to promote affiliate offers by clicking right HERE.
I hope this post on how fast does Clickbank pay was helpful, have a nice day.