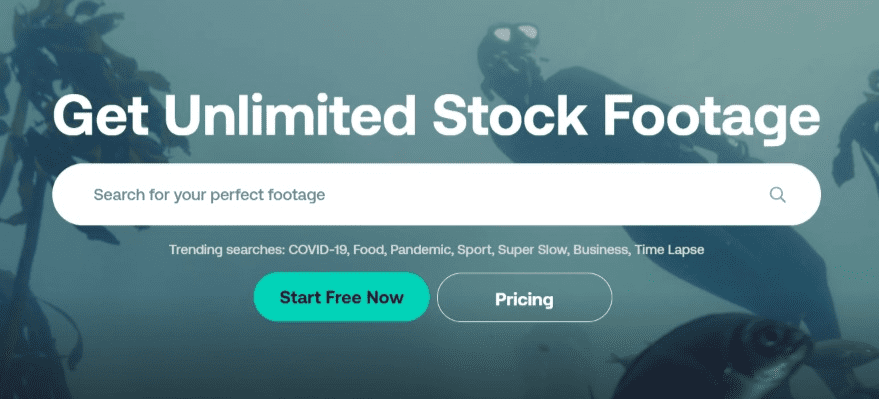 Artgrid is a very popular website for stock video footage that has a wide range of uses. Sure, I've thought about using it for my own videos, but what is cool is you can actually make money from this platform.
You can earn money by referring people to Artgrid and selling your stock videos to the platform. There is also a way to brand yourself to earn money for yourself in the future.
Keep reading and I'll share 3 ways you can use this platform, 2 of their biggest competitors, and how much you can earn selling stock videos to Artgrid. Plus, I'll share 6 other ways you can use this platform to earn money.
What is Artgrid?
Artgrid is a platform where you can get a bunch of stock video footage. The cool thing is you pay a monthly fee and can download "as much" as you want.
All the footage on the platform can be used commercially, privately, worldwide and are royalty-free. You can get videos in 4k all the up to 8k resolution. 8k has a resolution of 7,680 by 4,320 pixels and is sharp.
They have a bunch of other options such as you can choose video footage that is in slow motion, real-time, videos from a tripod or handheld, and much more.
Another cool feature is they have a section of filmmakers around the world and you can follow them and download their work.
The main selling point is MOST platforms such as "Istock" to download a stock video can cost $60 a clip and more. Artgrid is going to be MUCH less expensive and that is a good thing.
The bad news is even if this platform has unlimited downloads you can't download more than 100 different clips in a day.
I know Artgrid sounds very similar to the platform Artlist that allows you to download "as much" music as you want. Guess what? They are the same company and Artlist was first, Artgrid is the baby.
How is Artgrid Used?
The main use of Artgrid is Youtubers will stick video clips in their videos to add some spice to their channel. I'm starting to see this more and more with a variety of channels and some of these Youtubers are using Artgrid for this.
You could think of these weird video clips in Youtube videos as pictures in a blog post to break up the monotony.
The second use of stock footage is maybe someone works as a videographer. A videographer is someone who is paid to record live events like weddings, legal stuff, documentaries, sports, training videos, and other small-scale productions.
This stock footage could actually save the videographer money and time. One example of this is drone footage. Yea if stock footage could be used then the videographer doesn't have to fly the drone to get similar material.
The 3rd use of Artgrid is with sales and marketing. On the top of my head, I'm thinking a travel agent can use the stock video footage to help sell the dream of a vacation.
Maybe they are showing a presentation of a ski resort and the travel agent finds some stock footage of a variety of activities someone can do in the snow.
I'm sure there are "a lot" more uses for stock videos such as in a TV series or even in a video game.
Earn Money Referring People to Artgrid!
One way you can earn money is by referring people you know to Artgrid. How it works is the first person you refer gets you 2 months of free use on the platform. The second person you refer gets you another 2 months of FREE downloads on Artgrid.
When you refer 3 people you get a raise and earn 4 MORE months of use (8 months total). When you refer 6 people you get an extra 12 months. Refer 6 people you get 20 extra months! At 10 people you get lifetime use of the service.
Technically you get the service for free and this saves you money. Still, if you're going to spend around $500 a year for this service (for example, there are different plans) and you get it for FREE you made $500 dollars.
Selling Photos to Artgrid!
Yes, you can earn money selling videos to Artgrid, but it's not easy and there are LOTS of rules.
If people are in the photo, you need a talent release form. You can learn more about a talent release form HERE.
You can't use photos of famous landmarks.
The photos need to be high resolution with VERY good quality.
The good news is the platform will give you MORE exposure and that is what you want. You can actually upload clips into a batch and create a profile.
This profile can help your brand. If someone finds one of your videos then can check out your profile and view ALL your other clips.
Some sites don't have this profile feature and it's just a catalog with TONS of different stock videos. The bad news is you have to apply to upload your work to Artgrid and you can do that here.
You're going to have to upload a sample of your work and if you get rejected you can always try to improve and keep applying.
Ok, but what about the pay you ask?
Well, Sjoerd uploaded 36 clips that he says took 3 hours of work (I'm guessing to upload) and he earned $955 in a year. Still, that is NOT bad and next year maybe he earns the same amount of money or even more.
Another thing to think about is selling your stock videos to other sites. 2 other sites you can think about are black-box and Pond5.
Pond5 you get a higher percentage of the sell. When you upload your clip to Blackbox it automatically uploads your footage to 4 websites. These 4 websites are Pond5, Shutterstock, Vimeo Stock, and Adobe Stock.
The problem with Blackbox is they keep 15% of NET sales and only if your content sells. It makes it more convenient to upload your content using this tool.
There are more sites the sell stock videos such as Videvo, GettyImages, Storyblocks and there is a lot more.
Another REALLY cool thing you can do is use your artwork on these sites too (independently market educational videos or more of your work) and you can (charge whatever you want).
One REALLY cool tool that can help you do this is a shopping cart platform and I wrote a blog post on one of my favorites that you can check out HERE.
Another idea is you can create a website such as a personal blog for your "artistic work." Then you can use your work to sell your blog.
Conclusion
I know $995 may not seem like a lot when it comes to marketing videos, but that is just 1 piece of the puzzle. If you combine that with the other sites that pay for videos, the exposure to your own website, the affiliate programs, consulting, your own products plus ad revenue, and future work it can ALL add up.
I recently wrote a post about this travel affiliate program HERE that I'm a BIG fan of. Travel and photos/videos go together like peanut butter and jelly right?
The best part is if "you enjoy what you do" and can make some OK money at then that is winning in life right?
Regardless, you have to shoot good quality videos and if you want to get better at this skill then this is an inexpensive educational method HERE that is risk-free.
I hope this blog post on can you make money from Artgrid was helpful to you. Bye for now.