Who doesn't want to own an asset online that can pay them well into the future right? Well, there are MANY pitfalls to buying and selling websites.
It can be very profitable to buy and sell websites if you know what you're doing!
Keep reading and I'll share who should be buying and selling a website, 2 things to look for to avoid getting scammed, 2 areas to buy and sell websites and should you buy a website that is a lemon for a discount.
Who Should be Buying and Selling a Website?
When it comes to buying a website it's probably better to know what you're doing. It's a good idea to build a website from scratch first before thinking of buying one that is already built.
Sure building a website is slower, but there can be a lot of education in growing it. You can then use that education to evaluate websites.
Plus, if you know what your doing you can take a website that you purchased and improve it.
If you created a website and built it up so you're actually earning money ($100 a month) then you already have a good foundation with buying websites.
Anyone who wants to cash in their work on a website or doesn't want to grow the website can sell it. Usually, there is a multiplier meaning the average website sells for 30-45x.
You would get 30-45 times what the website earns in a month. If your website earns $100 a month at 30x you would get $3,000 dollars. The 30-45x a ballpark and a website can go for much lower or higher.
How to Avoid Getting Scammed?
Avoiding getting scammed or ripped off probably should be the most important thing to learn about when buying a website.
The 2 things to REALLY look for when shopping for a website are traffic and monetization (how it earns money).
Another thing to look for when checking out a website is backlinks. You could use this tool HERE to view a website and it tells you where backlinks are coming from.
If you see things that look sketchy such as no backlinks then it jumps up unnaturally it could indicate some black hat link building that could hurt the site.
I actually used to use MANY black hat techniques a while ago including blog networks and even spinning, which all hurt my content "big time."
You could also look at anything that is unusual and when you grow a website from nothing you will learn what is unusual. This is why it's best to have experience with websites before buying one.
One example would be NO bounce rate. You can see the bounce rate in Google Analytics which is a very popular tool for tracking the traffic of a website.
You could also look at where the traffic is coming from in Google Analytics by clicking on Acquisition and Overview.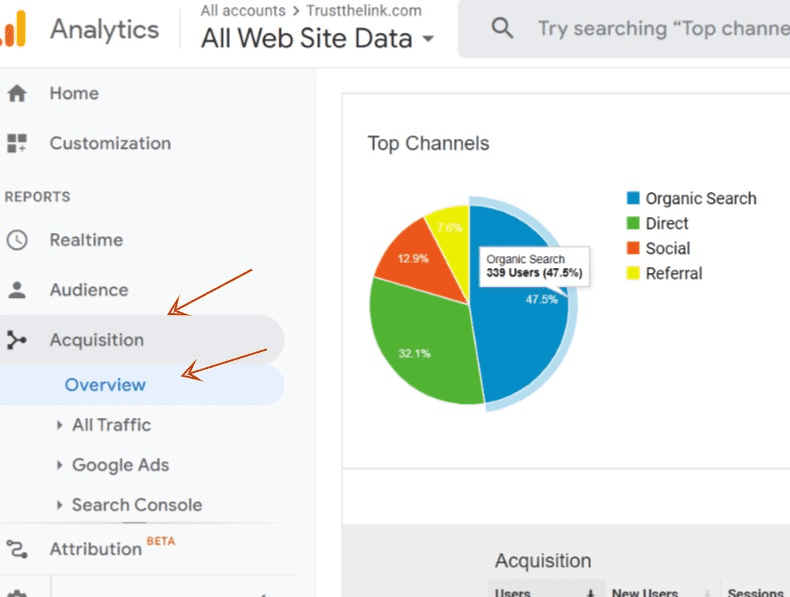 In the last 12 months, you see that the traffic is going down then which lowers the price of the website. If the website is going higher then it could demand a higher price.
The biggest thing to look for is monetization. You could have a web conference and ask to see the seller's screen of their account.
It's harder to fake if it's in real-time. If it's a screenshot then there is more of a chance it could be manipulated. Photoshop can do some interesting things you can learn so cool tricks EVEN a secret free way HERE!
You could also double-check all the affiliate sales to see if nothing seems out of place. Someone could be showing a screenshot of ALL affiliate sales through multiple websites and NOT the one you're buying.
You just want to double-check that you're buying what you think you're buying. Trust but verify the traffic and monetization and that is how you check for scams.
Another thing that MANY people don't think about is the branding of a website or blog. I talk about various ways to brand a blog with this post HERE.
Should I Buy a Website that is a Lemon?
Buying a website that has a lot of problems can usually be more trouble than it's worth! If the Website is NOT making money then it's not worth anything!
Potential, a wonderful opportunity, and the BEST niche doesn't mean anything. It's pie in the sky!
It's best to pay for the proven success that it's had NOT what could happen.
Other things to consider when buying a website is all the work that is going to be needed signing up to affiliate programs and changing the links so you will get paid.
Some affiliate programs are picky about who they accept. It's good to keep this in mind when buying ANY website with affiliate programs.
Of course, you can always put ANY affiliate program you want on the website. Another idea that I don't like is to use this site HERE. Basically, it's an affiliate website that has access to MANY Affiliate programs and they take some money off each sale for getting you accepted into a program.
Also with the advertising, you are going to have to probably sign up to the network that the site operates and then transfer it to your name.
All the other monetization should be thought about as well such as e-commerce, info products, and others such as Patreon.
There are actually "a lot" of interesting things that Patreon can do to monetize a blog and you can check these ideas out by clicking HERE.
Where to Buy and Sell a Website?
When it comes to buying or selling a website there are brokerages and there are communities such as Facebook groups and Forums.
Whatever marketplace or community you decide to go with you're going to want to use some type of escrow service.
I know Flippa.com has its own, but Escrow.com HERE is one you can use for almost anything. In case you don't know escrow just holds the money until both parties are satisfied and then releases it.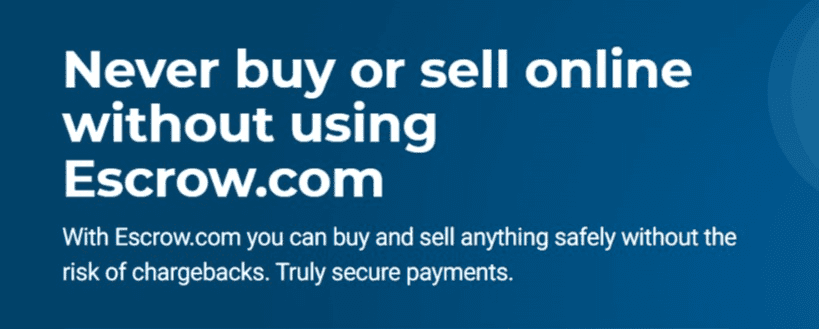 Without escrow, you could purchase a website and someone can take your money and leave without giving you anything.
You can escrow for REALLY anything including cars, domains, services, and anything else.
The largest problem with brokerage sites is the cost. These brokerage sites usually will take around 10-15% of the sales prices (this can really add up).
Another problem is going through a third party to buy or sell a website can hurt the communication. Using a DIY (Do It Yourself) approach means you can have a Zoom call and this can be helpful.
As for brokerage sites, some popular ones could include Flippa, Blogsforsale.com, and Empireflippers.
Conclusion
When it comes to buying and selling a website the right education really is SO worth it. It's important to learn from someone who has "real world" experience in doing this successfully.
There really is SO SO much to learn!
I recommend learning from these guys HERE because they are the real deal. They have built MANY websites including buying and selling them.
I hope this blog post on buying and selling websites was helpful to you. Bye for now.