I heard about Redbubble through a Youtube video about earning money using memes. The deeper I dived into this platform, the more really cool stuff I found. Today I want to share a few things, I'm excited about and of course how to get paid.
Redbubble Pays using Paypal or a bank transfer. You can get paid in Australian Dollars, Canadian Dollars, Euros, Pound Sterling, or United States Dollars.
Keep reading and I'll share what Redbubble is, 2 ways you can make money using the platform, how much you get to keep, and 7 mistakes to watch out for when opening a store.
2 Ways to Earn Money from Redbubble!
RedBubble is a print-on-demand platform that got started in Australia in 2006. This means it connects designers to shoppers and handles the boring stuff like shipping, packaging, and payment stuff.
This way YOU the designer gets to focus on what you enjoy doing which is designing. You also can get your own store on the platform and the website itself gets around 45 million visits so far in 2022 according to SEMRUSH.
You could "of course" promote your store on other social media platforms to get more traffic and sales.
The first way to earn money is of course to open up a shop and start designing stuff. Your design could be on anything from clothing, stickers, phone cases, wall art such as posters, kid/pet wear, and more.

You can even put your design on pillows, mugs, and clocks for example.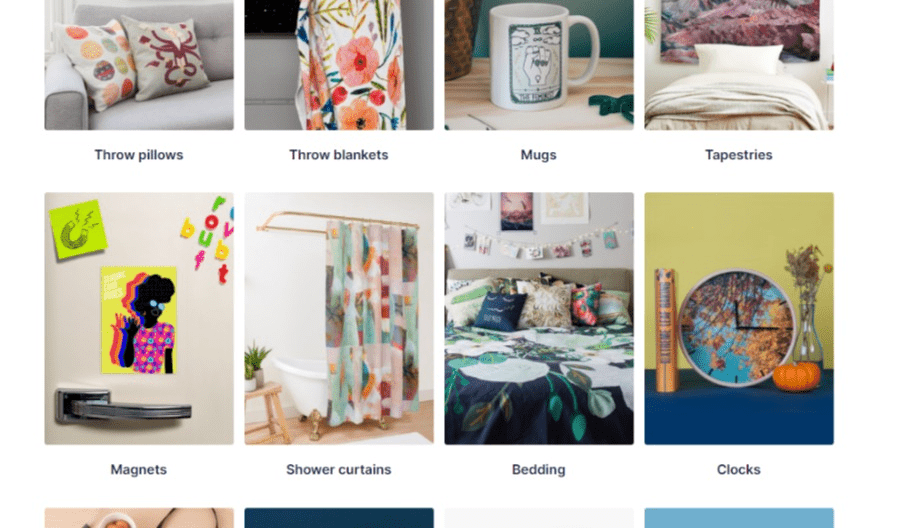 The second way to earn money from this platform (which might be the easiest) is to be an affiliate marketer.
I LOVE LOVE affiliate marketing. With affiliate marketing, all you have to do is have a big mouth. Basically, mention the company to "as many" people as possible. If they click on your affiliate link and purchase something then you would earn money.
There is no designing or need to open a shop.
You earn up to 10% commission with a 30-day attribution window, plus they throw out some bonuses. The 30-day attribution window means if someone clicks on your link and purchases something within 30 days you STILL earn money.
What I like about affiliate marketing is there are many different ways to do it and you can be very creative. I've been doing affiliate marketing for over 10 years and I share some ideas that I feel can be very helpful in a free eBook I created you can learn more about it by clicking on the link HERE.
How Much do you Get Paid from Redbubble?
With Redbubble there are 3 prices and that would be the base price (Redbubble's cut), Artist Margin (this is your cut) and that equals the total price.
What goes into the base price (what Redbubble earns) is there fee for hosting the marketplace, the fee for creating the product, and the shipping cost. This shipping cost can change depending on where someone lives.
Let's get into the good stuff and that is the "Artist Margin" and how you get paid.
If the base price is $100 and your artist margin is 20% then you would earn $20 on that sale. The total price would be $120 for the product plus any taxes.
I hope this explains how it works.
7 Mistakes to Make with Redbubble!
To give you an idea if starting a Redbubble shop is a good fit for you, here are 7 mistakes you want to avoid.
You want high-quality designs in niches that are in demand and NOT a lot of competition. It's actually the exact same with blogging. If you don't have a HELL YEA feeling you can win, then maybe keep looking.
You can find how much competition there is by putting in a keyword in the search bar. I used "guitar tuner" and found 621 results (the lower the better). Heck, most of the stuff didn't have anything to do with a guitar tuner! There isn't a lot of competition for this keyword!

The first mistake is to create a design in a niche that is WAY too competitive. You might be wondering how you find keywords that people search for.
One idea, that I use for blogging and it's FREE is this tool HERE. You type in the keyword and the more data that comes up the more it's searched. There are paid tools that show you how much traffic a keyword gets, but I don't use them or recommend them.
Now comes the fun of creating an avatar and creating a store.
When setting up your profile it's good to click on "Bubblemail" this means someone can send you custom requests.
Next, head on over to get paid and fill out the currency you want to get paid in and if you want Paypal or bank transfer.
The second mistake is not filling in the details on how you get paid. I know it sounds silly, but I've made this mistake before.
This comes to the third and maybe largest mistake you could make.
Getting into legal trouble with images doesn't sound like fun. If you're not sure how to create designs I did create a blog post on Photoshop and alternative tools you can use that you can check out HERE.
The fourth mistake is not using tags. You want as many tags that are as targeted as possible and you can add up to 50 of them.
A great tip on getting tags is this one here that I use for Instagram. Plus, you can just copy and paste the tags.
Tags are keywords that people type in to find your work. The more tags, the more likely your work will get found.
The fifth mistake is not enabling your design on as many options as possible. By default, some options (like children's clothing) are not checked.
By enabling your design on more options you're increasing the chance of a sale. To enable your design on more options, first click on Edit, then click on the second check mark (picture below) then click on ALL the options.
This way 12/12 is Enabled and you know your design is on all the options. Oh and this is the place where you can change the default markup of 20% if you want.
If your image has any mature content then of course you want to click on the "is this mature content" button. Now, you have your first image uploaded, now it's best to upload LOTS more.
The sixth mistake is to only have a few images.
Redbubble recommends adding 25 designs in your first 30 days.
The more images the better your chance of getting a sale. I keep thinking about Beeple the artist who created the NFT "Everyday's" which sold for 69 million dollars.
He has "really" cool artwork and he uploaded 1 image a day for a year, but he has a HUGE history of creating work for a LONG period of time. I wrote about his history in this post I created HERE.
The 7th mistake is not promoting your work. I know maybe you don't want to promote your work, but it can ONLY help. This reminds me of the story of Jimmy Hendrix when he was ALWAYS playing the guitar 24/7, but his band made him go out and talk to the crowd.
There are MANY ways to share your store and starting with just 1 social media platform might be best so you don't get overwhelmed.
One place you could start is Tiktok, where you make a 60-second video sharing your design and some thoughts on why you created it. Tiktok is great because you can get LOTS of views for little effort. Then you can link to your store in your profile.
Reminds me of the early days of Youtube (I miss those days). Of course, there are MANY other places such as Pinterest which I talk more about HERE as well as share ideas on getting images.
Closing
I hope this post on Redbubble was a little helpful. I do hope that it gave you "at least" a few ideas on what was possible. Plus, there are other websites that do print on demand as well. You could repurpose your work to other platforms.
I'm a HUGE fan of doing this and doing something similar with blogging where I will repurpose my blog to other blogging platforms such as Quora, Linkedin, Medium and do more cool stuff with it.
Have a nice day, bye for now.