The crypto play-to-earn game Axie Infinity looks interesting so I want to give it a try, but there is 1 large problem. Axie Infinity is NOT free to start.
In order to play the crypto game someone needs to have 3 Axies in their possession. At the time of this blog post, the 3 cheapest Axies I've found were $133 each. To start playing I would need at least $399.
Realistically, it would cost a little more because I want 1 tank, 1 damage, 1 utility that ideally has a breed count of 0. The reason you want a breed count of 0 is that it takes fewer love potions to make a baby.
There are 2 ways to play Axie Infinity for FREE, but they both have a catch.
Someone can play Axie Infinity for Free with a scholarship program through another player. In the future, new players will be able to get started without any up-front purchase of Axies by receiving non-transferable Axies with limited earning potential.
I know what you might be thinking, what about just buying 3 eggs and watching them grow. The problem with going TOO cheap is that it's a gamble and you don't know what your Axies body parts will be.
Keep reading and I'll share what the scholorship program is all about and "exactly" how someone can get started with this game.
Scholarship Program
Think of the scholarship program or Axie lending program like renting out a car. You get to drive a car that you can't afford and someone else gets money for loaning you their Axies.
Both people can win.
The large drawback with the scholarship is that you will not be making as much money. How much you can earn does depend on the scholarship program.
Most of the scholarship programs that I've seen you would be earning 65% of the rewards. The other 35% would go to the person who loaned you an Axie.
You might be wondering how much you could possibly earn playing the game? This video will provide the best idea that I've seen, but the prices may go up.
Keep in mind this is when someone OWNS an Axie.
Another danger is there is NO guarantee you will get paid at all. Hopefully, the person you're dealing with is honest and trustworthy.
This is why Escrow service was created right?
Another benefit of some of the scholarship programs is other players will give you help and advice on playing the game.
If you are still interested here is a list of a few scholarship programs that I've found.
Non-transferable Axies with limited earning potential
As of the time of this blog post, there are NO free starter Axies that I have found from Sky Mavis the makers of Axie Infinity.
In an update, they did mention they plan on reducing the barrier to entry by allowing new players to have Free starter Axies.
This will allow people to start learning the game before making a big economic decision. However, their earning ability will be very weak.
This means the free to try players will be encouraged to eventually get real Axies they truly do own.
How much the FREE Axies earning protentional will be impacted, nobody knows. Sky Mavis also plans to introduce a fun tutorial and easier ways to login using social media.
You're probably wondering when exactly this will happen? The 3 FREE starter Axies were mentioned in the February 2021 update that you can read about from the Link HERE.
The development team is currently working on it and I have no idea when it will be available.
How to Get Started with Axie Infinity
If you do have enough money to invest in Axie Infinity the easiest way to get started is by first getting Metamask. Metamask is a wallet that allows someone to send and receive ether on the Ethereum blockchain.
You can get Metamask as a browser extension or as a phone app.
You even get a creepy fox that follows your cursor around cool right?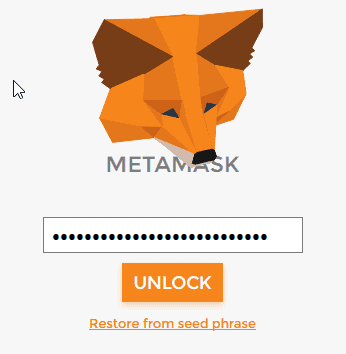 You can download Metamask by clicking on the link HERE.
Now, that you have Metamask the next step is to download the Mavis Hub and Ronin Wallet. Ronin is a sidechain of Ethereum that will allow you to save on gas fees with moving Ethereum.
Instead of many tiny transactions being on the Ethereum blockchain Ronin just send 1 LARGE transaction and thus everyone saves on annoying gas fees.
You get Mavis Hub by clicking on the link HERE. Inside the Mavis Hub you can see the Axie Marketplace and what Axies are selling for.
Oh, and you can automatically login to Mavis Hub with Metamask. Then you can buy Ether with fiat money and an easy way to do that is with the Ronin Wallet.
A second way is by buying from an exchange such as Coinbase, but there is usually a waiting period of 7 days before you can move the Ether to Ronin to buy Axies.
Here is a video that will walk you through buying Ether.
Is Axie Infinity EVEN worth it?
You might be wondering if all the hassle is worth it? Why spend hundreds of dollars on a video game?
The Axies you do buy, you can resale later and hopefully will be worth more money in the future.
The love potions you collect during the game you can also sell for "real world" cash. There is also a breeding part of the game where you can get more Axies.
Plus, the developers have lots of plans going forward. They plan on introducing land and bigger battles. You add this to the fact that over 60,000 people play the game and it's the #1 play to earn video game on the market.
The best thing is it's MORE fun than a boring stock. It's even MORE fun than buying dogecoin.
Due to the fun factor and its geared towards kids, I've been very bullish on Axie Infinity. Besides if you do buy some Axies and hate the game you can always sell them to someone else.
I hope this blog post on if someone can play Axie Infinity for free was helpful to you. Bye for now.